Tiffany Florvil, Mobilizing Black Germany: Afro-German Women and the Making of a Transnational Movement
February 16, 2021 @ 2:30 pm

-

3:30 pm
Co-sponsored by the Center for German and European Studies, the African Studies Program, the Department of German, Nordic, & Slavic, and the Department of Gender & Women's Studies. Introduced and organized by Venkat Mani, Professor in the Department of GNS as part of the Center for European Studies Spring 2021 Virtual Lecture Series.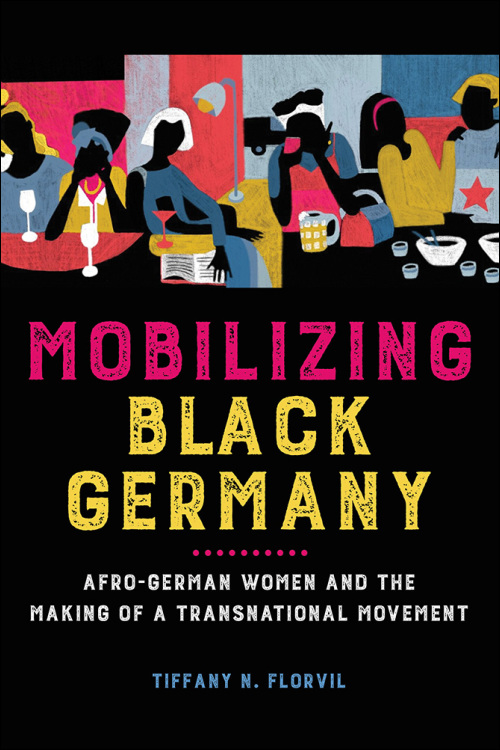 In the 1980s and 1990s, Black German women began to play significant roles in challenging the discrimination in their own nation and abroad. Their grassroots organizing, writings, and political and cultural activities nurtured innovative traditions, ideas, and practices. These strategies facilitated new, often radical bonds between people from disparate backgrounds across the Black Diaspora.
Tiffany N. Florvil examines the role of queer and straight women in shaping the contours of the modern Black German movement as part of the Black internationalist opposition to racial and gender oppression. Florvil shows the multifaceted contributions of women to movement making, including Audre Lorde's role in influencing their activism; the activists who inspired Afro-German women to curate their own identities and histories; and the evolution of the activist groups Initiative of Black Germans (ISD) and Afro-German Women (ADEFRA). These practices and strategies became a rallying point for isolated and marginalized women (and men) and shaped the roots of contemporary Black German activism.
Dr. Tiffany N. Florvil is Associate Professor of History at the University of New Mexico. Her scholarship focuses on the modern and late modern period in Europe, especially social movements, gender and sexuality, emotions, and the African diaspora. Her manuscript, Both Black and German: Women and the Making of a Movement, is a cultural history of the interplay of emotions, social activism, transnational feminism, and the African/Black diaspora in Germany, in which she explores the emergence of the Black German movement of the 1980s and 1990s and traces the evolution of a Black German intellectual and activist tradition inspired by Caribbean-American feminist poet Audre Lorde. She has written several articles that revolve around the Black German movement and its transnational connections as well as gendered aspects of Black German activism. Together with Vanessa Plumly, Florvil has co-edited a volume, Rethinking Black German Studies: Approaches, Interventions and Histories with Peter Lang Press (2018). Florvil has organized with Vanessa Plumly two German Studies Association (GSA) seminars: one entitled "Black German Studies Then and Now" in 2014 and another entitled "Political Activism in the Black European Diaspora: From Theory to Praxis" in 2015. She is the Co-Chair, along with Vanessa Plumly, Sara Lennox and Andrew Zimmerman, of the Black Diaspora Studies Network at the German Studies Association, in which she has organized numerous panels and roundtables. She was also the Co-Chair, along with Heikki Lempa and Derek Hillard, of the Emotion Network at the German Studies Association in 2017. She also is a digital humanist, serving as the Co-Founder, Network Editor, and Advisory Board Member for H-Black-Europe and a Co-Founder and Network Editor of H-Emotions. She blogs for Black Perspectives published by the African American Intellectual History Society and also is a part of the transnational group Black Central Europe.